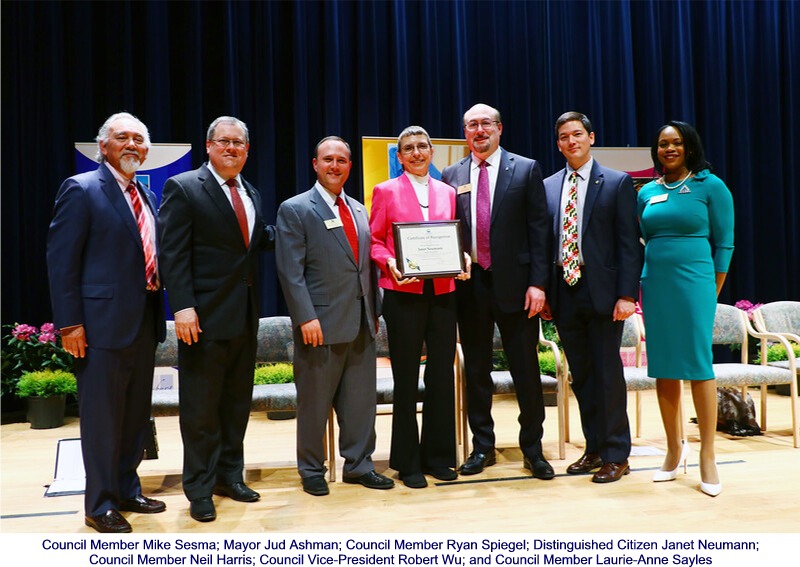 At the State of the City Address on April 25, the Gaithersburg Distinguished Citizen award for 2019 was presented to our very own Janet Neumann. Here is the Introduction by Gaithersburg City Council Member Mike Sesma:
"We are delighted to present this year's Distinguished Citizen award to Janet Neumann.
Janet has lived in the Gaithersburg community for more than three decades, and her compassion and commitment to serving the community exemplify what it means to be a volunteer. For nearly half the time she has lived here, Janet has volunteered with Gaithersburg HELP, working in many capacities, but most notably as the coordinator of its Prescription program.
Humble to the core, Janet will undoubtedly minimize her role as the coordinator of this program. Yes, a large team of volunteers works with her to field calls, discern the challenges, identify solutions, contact pharmacies, and ultimately get help for people who are often forced to choose between paying their rent and getting the medication they or their family members so desperately need.
But we know that it is Janet's lived experiences, her resiliency and determination, and most of all her loving nature that allows this program to continue to offer hope to so many people, doing so with the utmost dignity and respect.
Janet is the heart of Gaithersburg, and we are so fortunate to be on the receiving end of her kindness and generosity. It is with great pleasure that I present the 2019 Distinguished Citizen Award to Janet Neumann."
See the presentation video "Change Makers" and the video of Janet's introduction and her comments.
See the video of the entire 2019 Gaithersburg State of the City Program.