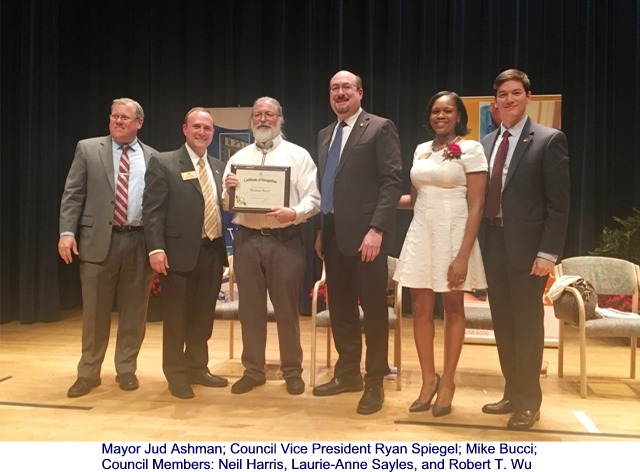 On April 28, the Gaithersburg Distinguished Citizen award for 2018 was presented to our very own Mike Bucci. Here is the Introduction by Gaithersburg City Council Vice President Ryan Spiegel:
"We are delighted to present this year's Distinguished Citizen award to Mike Bucci.
Mike has lived in Gaithersburg for nearly 45 years, and no one is more entrenched in this community. He taught in the MCPS school system for 37 years, 20 of them working with youth at the Phoenix School, an alternative high school for students with substance abuse issues. He spent the last five years of his teaching career at Gaithersburg High School, and along the way he shared his wisdom and insights as a member of the City's Educational Enrichment Committee for more than 20 years.
Upon retirement, he decided to really get busy. Mike considers himself a professional volunteer, and his kind-hearted efforts have benefited many local organizations, including the Lord's Table Soup Kitchen, where he washes dishes, Gaithersburg HELP, where he delivers food, Hospice Caring, where he helps others as a bereavement counselor and talks about grief in high school health classes, and Habitat for Humanity, where he helped build the Maple Hill homes in Gaithersburg, and where he went on three global village trips to help build homes in El Salvador.
He's also taken kids on field trips along the C&O Canal, does trail maintenance work for national parks out west (that's his vacation), sings in the Augustana Lutheran Church Choir, canes chairs as a hobby, and plays drums in the band, Ragged Company.
Mike has a passion for life, and we in Gaithersburg are fortunate to be on the receiving end of all of that enthusiasm. It is with great pleasure that I present the 2018 Distinguished Citizen Award to Mike Bucci."
See the presentation – 2018 State of the City video "greatest city in the world"