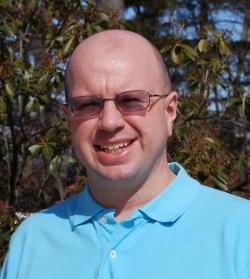 Gaithersburg HELP Welcomes its New President Clark Robinson.
The Gaithersburg HELP community was very pleased that Clark Robinson recently accepted the invitation to succeed the Rev. Mary Beth Lawrence of Gaithersburg Presbyterian Church. She assumed additional pastoral responsibilities at her church that would have made it difficult for her to continue as president. We extend our deep appreciation for the many years Mary Beth dedicated to HELP as President, and know she continues to be a strong supporter and contributor for our good works.
Pastor Robinson serves as the Pastor of Worship and Missions at Pathways Baptist Church, located at 200 W. Diamond Ave. in Gaithersburg. He was born and raised in the Washington, DC, area; and he graduated from Liberty University in Lynchburg, VA, in 1991 with a BS in Church Ministries. He then served as a missionary in Brazil from 1991 to 1992, where he met his wife, Nalva. They have been married for 24 years and have four children.
For 20 years, Pastor Robinson has been on staff at the First Baptist Church of Wheaton, which became Streams of Hope Church and then merged with the former First Baptist Church of Gaithersburg to become Pathways Baptist Church. He had begun his staff work as the Community Missions Minister in Wheaton, MD. He then assumed the role of Minister to Language Congregations (they had Korean, Vietnamese, and Brazilian congregations meeting at the church in Wheaton).
Pastor Robinson has led church teams to local communities in Brazil for more than 15 years to build chapels for needy congregations, hold outreach events for children and adults, and provide medical, food, and clothing assistance. This past July, he led a team from Pathways Baptist Church to Jamaica to build houses for needy families and provide assistance to the Robin's Nest Children's Home and Orphanage. In December, he and his wife will go with a team from Pathways Baptist to minister in the Philippines for 2 weeks.
We hope that all volunteers and friends of Gaithersburg HELP will join us in welcoming Clark in his new role for us.